Insight into
Shooting
Before you hire me as your available light photographer, you probably want to know what to expect.
Or maybe not? You can also just contact me directly!
At the beginning we talk about what you actually need the pictures for. Should it be an application, pictures for your loved ones or should it be professional headshots for the agency?
Am I the right photographer for the job at all? This part is of course free of charge and without obligation and is crucial for step two.
Variations of Shootings
Available light Photographers need to know natural light at least as well as their colleagues in the studio know about different flashes and backgrounds.
That's why we consider which time is the best for your pictures. Every time of the day has its own charm and beauty, choose what you prefer for your portrait session.
Find your light
After the shooting, you will receive a small preview as promptly as possible, as a foretaste, so to speak.
Within two weeks you will receive a link to your own password-protected gallery, in which you can select your pictures comfortably from your home and submit editing requests, as well as give feedback.
What happens afterwards
1. What do you need the pictures for?
As a photographer, the most important thing for me is that you get the most out of your pictures
A portrait is not simply a portrait: Whether I take pictures for a local fashion label from Munich or headshots for a drama agency is a difference between day and night (that can be interpreted quite literally). Booking a photographer is something expensive, something special and something that cannot be treated according to the scheme f.
That is why we discuss in advance what you need the pictures for, whether you want to use the pictures for applications, agencies or privately. And if I realize I am not the professional for your needs, I'll be happy to recommend experts in the photography genre that you are looking for.
Simply Portraits
Actors Headshots
Application Photos
Lifestyle Portraits
Simply Portraits
You have no real idea and just want a few professional pictures  for social media, relatives or with your loved ones (or future loved ones, online dating is getting more and more present these days)?
Everything is allowed in those portraits sessions and there are no limits to our creativity. Whether atmospheric portraits in the evening sun or party pictures with your besties in wide-angle format in a yakuzi with popping corks from champagne bottles: let's get started.
Actors Headshots
Do you need new pictures for your agency or agent? Would you like pictures that underline your versatility as an actor, or would you like to reinvent yourself?
In the past year I had asked many actors and agencies what they look for in agency photos, what is important to them and what they expect successful actor portraits to look like from a photographer. Benefit from my experience and let yourself be portrayed.
Application Photos
An application photo no longer has to be shot on a monotonous background: Urban application photos are stylish and alone Munich has a number of impressive glass fronts, modern architecture and atmospheric parking garages (yes, you read that right) to provide a great background for modern application photos.
As a photographer, I know exactly the right locations for your application photos, regardless of whether you want to apply for a journalistic or a craft position.
Lifestyle Portraits
Are you an influencer, personal trainer or just want to have a family storytelling from a hiking short trip? Whether for the marketing on your website or for the family album, as a photographer I love the challenge and being active during my work.
Take me along with what matters most in your life, what you are burning for: in the sports bag or in the bag of your car: I will accompany you in your passion and capture special moments for you to remember.
2. Determine the time of day and light
The time of day at which the pictures are taken is decisive for the mood of the pictures.
As an available light photographer you don't work in the safety of the studio, you can't repeat exactly the same portrait at any time and design the background as you want. That's why you have to think in advance about when and where the shoot will take place. What mood and temperature the photos should express.
Every time of day brings different challenges for the photographer and a different mood into your pictures. Depending on how long your shoot is planned, you can also fit in two or maybe three types of lights into one session.
The different times of the day can be roughly divided into golden and blue hours, midday sun, soft box light and neon light (aka. nighttime).
BONUS CHALLENGE:
Can you tell from the following portraits what time of day / weather conditions the photos were taken?
After the next section, you can.
🌅 Golden hour
☀️ Midday sun
⛅ Cloudy light
🦉 Night time
🌅 Golden hour
The golden hour
Every day, either at sunset or in the morning hours, the sunlight has a special quality.
Photographers love the golden hour for a reason: Whether on the Hackerbrücke in Munich or at the port in Barcelona, ​​the golden hour provides soft, warm light in the morning and evening.
This not only flatters the skin tone, but also conveys a very special, calming atmosphere. Perfect for moody portraits, couple photos or as visual storytelling in lifestyle format.
The golden hour has something to offer for almost every shooting.
Particularly practical for photographer and subject: Even the so-called blue hour, which typically comes after the evening sun, has a very special and twilight mood (although it is rarely a whole hour, more like half an hour).
☀️ Midday sun
The midday sun
I recently wrote a blog post about the pros and cons of being a photographer in the midday sun. I personally love to take pictures at noon on a sunny day, it creates strong contrasts, hard shadows and offers an intense drama in the pictures. But it is not the best for every occasion: If you are interested in application pictures, for example, then a softer light is definitely better, and it is similar with pictures for the sedcard or actor headshots. Because with such portraits, it is an advantage if the face is evenly and softly illuminated.
But, the midday sun is a challenge for a photographer, especially when it comes to portraits, which is why many photographers are put off by it. For your pictures, however, this also means that you get special highlights that many viewers are not used to because there are simply not that many photographers who can deliver them.
By the way, portraits with architecture or fashion photography are particularly good in the midday sun, since those kinds of photographs grave strong contrasts and attention.
⛅ Cloudy light
The soft box weather
There is a reason why the nickname for these lighting conditions contains the word "soft", because hardly any other daylight is so even and flattering for the skin.
Funnily enough, most people think that a cloudy, windy day, even with light drizzle, is not suited for portrait photography. Exactly the opposite is the case. The so-called soft box weather provides perfect conditions for portraits, because it makes the face very soft: No hard shadows, no constant adjustment of the camera settings, no reflector or other bells and whistles necessary. Soft box weather is valued by portraits, actors and also application photographers in the available light field.
Bonus: You can also use it for atmospheric portraits at the window at home.
🦉 Night time
Night time and neon
I love neon and artificial light portraits, that I wasn't alone with that passion as a photographer from 2010 to 2018 is clearly the case. At times Instagram was flooded with these incredible, colorful, atmospheric portraits and many photographers craved more and more light swallowing lenses to capture the beauty of the neon jungle.
Fortunately, those kinds of portraits become a bit rarer and still have a firm place in my heart. In general, the night, especially in large cities, offers its very own, exciting background for atmospheric portraits. Unfortunately, as a professional photographer, I cannot recommend this setting for application photos, actor portraits or sedcard pictures.
But especially for night owls and those who want refreshingly different pictures with an unusual storytelling, this "time of day" is exactly the right choice.
3. The selection
Work first, then pleasure
As soon as possible, usually on the same day, I will send you a few small preview pictures of the portraits of our shoot. There is no particular reason for this, except that I would like to give you a foretaste right away.
Within two weeks you will then receive the link to a password-protected gallery that only the two of us have access to.
After logging in, it goes straight to the "most difficult" part, namely choosing your favorites. You can contact me at any time and express processing requests, ask about my choice for your selection or give feedback.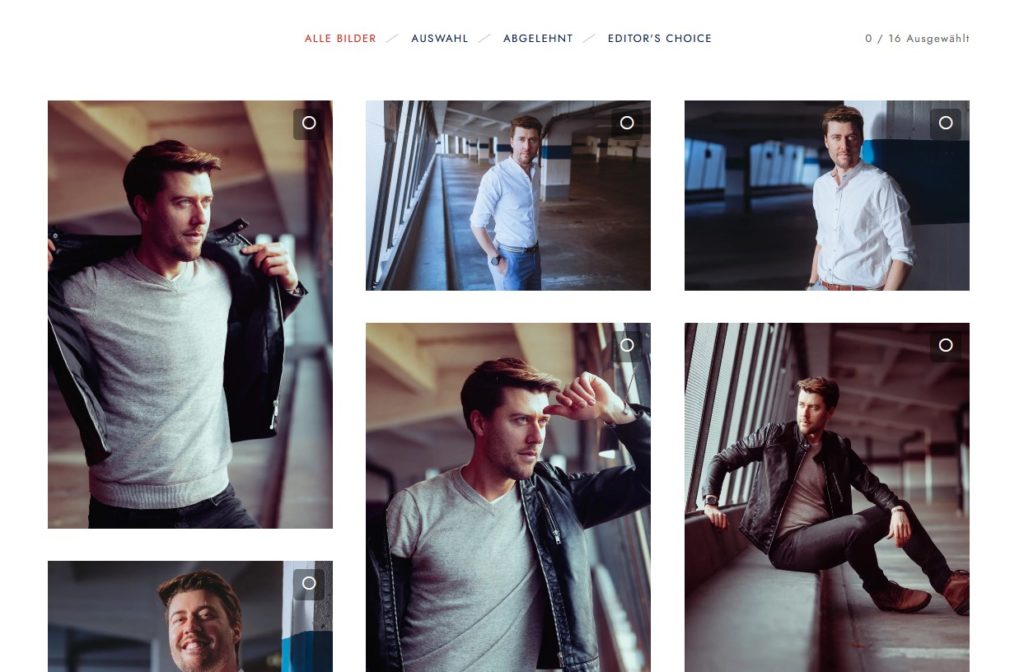 Then you can start looking forward to the final edit of your picks. At the time, the images of the selection are only roughly processed, so I'll give your portraits the necessary fine-tuning, export them once in a small resolution for apps & social media and once in their full resolution, if you … for example if you want to print out posters of yourself.
Finally, I'll send you the finished portraits via a downloadable link.
By the way:
If you cannot decide at all, you can of course purchase even more pictures from the selection afterwards. Depending on the package booked, these cost an additional 5 to 15 Euros.
By the way, way:
If for any reason you don't like the editing, you can have your images reedited up to five times, depending on the package.

Satisfaction Guarantee:
As a photographer, it is a matter of honor for me that you are completely satisfied with the results. Therefore: If you don't like the pictures at all, and we can't find an individual solution for you, your money will be refunded. For all details, please have a look at my terms and conditions (for the time being they are only in German but if you need clarification just ask me directly).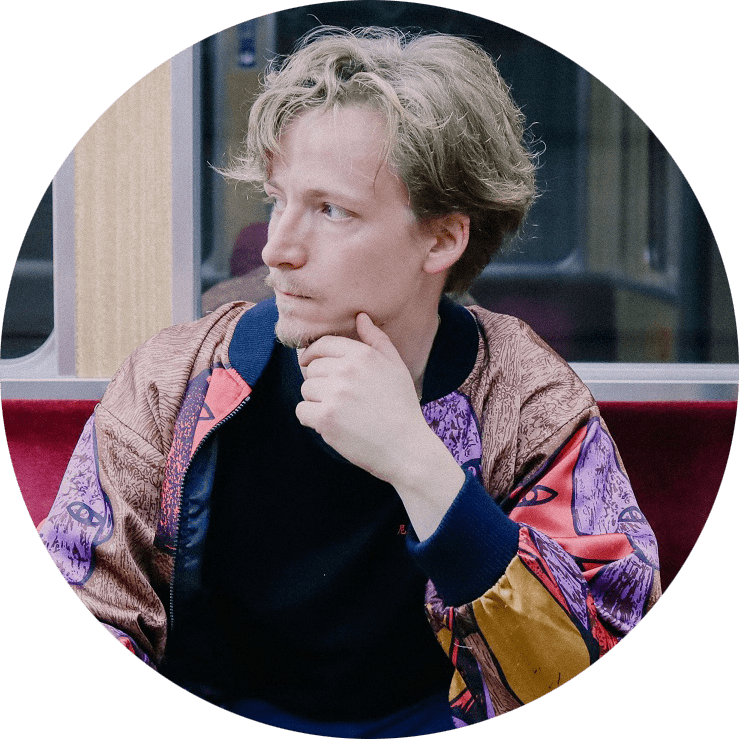 Your Photographer
From Munich, at home in the world
My first contact with photography was when I was a little boy and got a camera for my birthday
My first pics were pretty much anything that got in front of my camera, but mostly friends, family or pets. I quickly established myself in my circle of friends as the one who always had a camera with me and captured memories and videos (at that time we didn't have smartphones).
Even today I still take photos of celebrations and special moments in the lives of my loved ones. After all, I know how precious and bittersweet (...)
Your Photographer
Living in Munich, at home in the world
My first contact with photography was when I was a little boy and got a camera for my birthday
My first pics were pretty much anything that got in front of my camera, but mostly friends, family or pets. I quickly established myself in my circle of friends as the one who always had a camera with me and captured memories and videos (at that time we didn't have smartphones).
Even today I still take photos of celebrations and special moments in the lives of my loved ones. After all, I know how precious and bittersweet (...)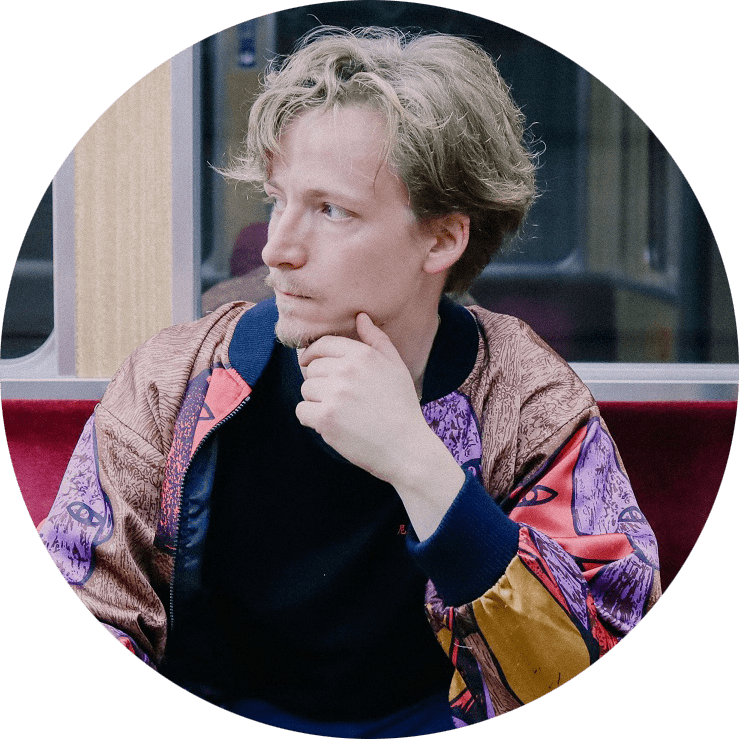 Would you like to know what a shoot with me as a photographer actually costs and what you get for your money?
Depending on your needs, I offer three shooting variants of different lengths.
Look into it